With Christmas around the corner, we figured we'd offer some suggestions as to what you could get the book lover in your life. Books are fantastic presents, not only are stories a form of magic, books are gifts that can be read again and again. Sure it might not be everyone's favourite present but for those you know would appreciate it, here are some recommendations.
For Younger Readers
The False Prince by Jennifer A. Nielsen
Plot: The False Prince is about Sage. Along with a few other young boys, he is taken from an orphanage by a nobleman and there's only one thing these boys have in common; their appearance. After the royal family were killed, this nobleman intends to pass one of these boys off as the youngest Prince who was presumed dead years ago. Sage is defiant, especially compared to the four other boys, but he knows the nobleman's motives are questionable and if he isn't chosen as the 'false' Prince, he might very well be killed.
What makes it special: Sage is what makes it special. Not only is he fierce and defiant but he's manipulative and clever. I can't explain too much about his character, but the book being written from his perspective is a very good example of an unreliable narrator. He makes you doubt his morals and is truly a unique protagonist.
Recommended for: Those who love fantasy and a medieval setting.
The Potion Diaries by Amy Alward
Plot: Titled 'Madly' in the US, it's features a girl called Samantha Kemi, from the most famous family of alchemists in a world that now mass-produced synthetic potions instead. When the Princess of Nova accidentally poisons herself with a love potion that makes her fall in love with herself (yes, it's as funny as it sounds), Samantha has to race against other alchemists to cure the princess and prove to the world that alchemy isn't a dying art, and real potions are better than their synthetic counterparts. This book is more like the X Factor + I'm a Celebrity Get Me Out of Here + whatever other game shows you can think of, as Samantha takes part in a televised competition to collect the ingredients from all over Wild and make the cure.
What makes it special: The tone. This is a book that doesn't take itself seriously, it's not some hard headed gritty competition like the Hunger Games, it's treated like a television reality show (which in the Universe of the game, it actually is). Plus a unique setting. This is a world of magic, people with powers and alchemy, but it has technology and social media and the kind of publicity around the royals as there is around celebrities.
Recommended for: Young teens who love contemporary as much as fantasy. Those looking for a fun and quirky read, rather than a serious one.
The Iron Trial by Holly Black and Cassandra Clare
Plot: All his life Call's dad has told him that magic is dangerous and Magisterium is a horrible place underground, without windows, without freedom. So unlike every other kid at the Iron Trial – the test that determines whether you'll go to magic school – Call actively tries to screw it. Turns out he's really bad at failing. Even when he tries not to do magic he attracts their attention. Everything Call's dad ever told him about magic comes into question and Call has to challenge what he knows, with what he's about to learn.
What makes this special: Whenever you hear 'a book about young kids and magic school', you think Harry Potter, right? We all do and there's no shortage of people thinking 'Harry Potter rip-off'. It's complete with the evil lord, army between wizard, and three kids who want to stop them. Even it's own version of the 'chosen one'. But this book felt more like a love letter to books like that than anything else. This was written by fans of Harry Potter, not people wanting to steal its success. And what makes this book special is that it twists what you'd expect from a story of this kind.
Recommended for: It's aimed at a Middle Grade audience (ages 9-14). I'd recommend it for those in that age range but also fans of magic and magic schools, those waiting for something that nods back at Harry Potter (not something fighting to beat it).
Young Adult Fiction
Rebel Belle by Rachel Hawkins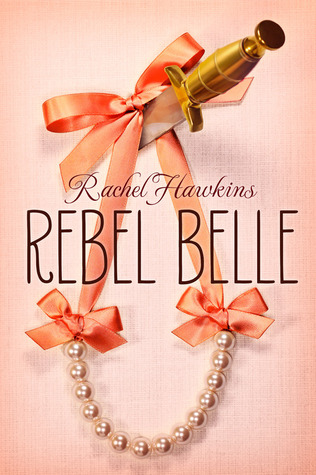 Plot: Harper is the Southern Belle waiting to be crowned homecoming Queen but when a crazy guy tries to kill her and the school janitor, she gets kick-arse fighting skills and the rest of her life takes a dangerous turn. She's become a Paladin, a guardian charged to protect a specific person. Only problem is, the person she's charged to protect is actually the person she hates most in the world.
What makes it special: It's rare to see a lead heroine who'd rather be running around the city in a big poofy dress that fighting the bad guys, that's at the top of the social ladder than the weird outcast. And it's nice to see the girl charged with protecting the boy for a change.
Recommended for: Fans of Buffy the Vampire Slayer for a start (if you're familiar with Buffy, then the protagonist, Harper is pre-Sunnydale Buffy). I'd target this for teen-young adult range.
Fangirl by Rainbow Rowell
Plot: Cath and her twin sister Wren go away to university. The story follows Cath as she struggles with her social anxiety, family, friendship and fandom. Fandom is a huge part of Cath's life, she obsessed with the Simon Snow book series (this universe's equivalent of Harry Potter), to the extent where she writes one of the most popular Simon Snow fanfictions online, called 'Carry On, Simon'. Her twin sister Wren doesn't want to be her room mate, pushing Cath out of her comfort zone, her fiction-writing professor hates fanfiction and then there's her room mate's boyfriend whose always around and the guy in her fiction writing class.
What makes it special: This is a story about growing up. It makes you ask questions, like, does growing up mean leaving fandom behind? Cath goes through struggles that are very familiar to people her age; drifting away from friends and family, first loves, that friend who just wants to go out and get drunk, and being irrevocably in love with something fictional that reality becomes a blur.
Recommended for: Fangirls, obviously. Anyone and everyone who knows that feeling of being in love with a fictional world so much you don't want to ever escape it. It's listed as young adult but Cath is starting University, I feel this book would be relatable to those who understand the experience, those age 18 and above (though the content isn't 18 rated).
Bonus info: Rainbow Rowell wrote this during NaNoWriMo.
Cinder by Marissa Meyer
Plot: 'Cinder' is a cyborg, which in the world of New Beijing means she's treated as a second class citizen. She's a gifted mechanic, hated by her stepmother, and blamed for her stepsister's illness. When Prince Kai visits her in need of a mechanic for a failing android, she gets caught up in a forbidden romance and intergalactic struggle.
What makes this book special: This is a retelling of Cinderella with a twist, it's set in a futuristic science fiction world.
Recommended for: People who like some romance with their science fiction. Or science fiction with their romance.
Another NaNoWriMo success story.
Adult
The Book Thief by Markus Zusak
Plot: Following a girl called Liesel during WW2 in Nazi occupied Germany, the book thief explores friendship, love and loss but in a truly unique and powerful way. Liesel can't resist a book, it's the first thing she steals. Then when her foster father taught her to read, the book became a greater part of her life.
What makes this book special: A lot, but one key component is that it's actually told from the perspective of Death.
Recommended for: People who love books.
A Darker Shade of Magic by V. E. Schwab
Plot: Kell is one of the few travellers who have the ability to travel between worlds, versions of London that Kell calls; Black London, White London, Red London and Grey London. Black London is long gone, consumed by magic; White London is starved of it, desperate for magic and power; Red London is full of magic and Grey London lacks any. As a traveller from Red London it's Kell's job to travel between Londons but in the process he smuggles some objects across. When one of his latest acquisitions turns out to be a relic from Black London he realises he's become involved in something much greater than he can escape. And then there's the pickpocket Delilah Bard from Grey London, who forces Kell to take her on an adventure.
What makes this book special: The author's writing style is distinctly memorable but more than that, she has a way of creating fantastic dialogue that's true to every character.
Recommended for: Fantasy fans and lovers of multiple worlds.
Good Omens by Terry Pratchett and Neil Gaiman
Plot: The apocalypse is coming, the Antichrist has been born and a war between heaven and hell is inevitable. Only thing is, there's an fussy angel and fast-living demon who don't want it to happen, so they team up to try and make the Antichrist grow up 'good', after all, an apocalypse would completely ruin their happy lives. Turns out, the Antichrist has been misplaced, hell's still about to break loose and the Horsemen of the Apocalypse are on the way. But this was all predicted in the Nice and Accurate Prophecies of Agnes Nutter anyway.
What makes this book special: I'd like to say the British humour, only those authors could turn a tale of the apocalypse this way. It's rare to find a book that has you laughing at every page.
Recommended for: Lovers of comedy, fans of British humour and those familiar with the amazing work of Terry Pratchett and Neil Gaiman. Or maybe just those who want to read about an apocalypse.
Bonus comic recommendation:
Saga by Brian K. Vaughan and Fiona Staples
Plot: Saga is the set in a world at war. Two enemy soldiers from different races fall in love instead, and are forced to run with their newborn daughter. This story isn't just about Alanna and Marko, it's about the bounty hunters on their tail, the royal robot family that literally have TVs for heads and an interplanetary war. But it's also a story about family and love and if that isn't enough Fiona Staples artwork is some of the most beautiful ever created.
What makes this book special: Everything. This is a story all comic fans should read, all art lovers should look at, and all fans of well written stories should pick up.
Recommended for: Adults only. Seriously. This comic doesn't shy away from graphic content, with a lot of sex scenes and heavy violence. Recommended for Star Wars fans and lovers of epic space operas.
– Nadia