We're over a month into 2016. I've already talked about the books I'm most excited for in 2016, but I figured now was as good a time as any to talk about my favourite YA books that came out last year.
The Wrath and the Dawn (Renee Ahdieh)
"Love is a force unto itself, sayyidi. For love, people consider the unthinkable…and often achieve the impossible. I would not sneer at its power."
The Wrath and the Dawn is a novel based off the Arabian Nights (One Thousand and One Nights), a story of a King who kills his bride each morning only to take a new wife the following day. The protagonist keeps the king from killing her by telling him a story but when the night ends she doesn't finish it, his curiosity keeps her alive till the next day when she finishes, but each time she starts a new story. However in the Wrath and the Dawn this story is approached as a romance. Sharzhad volunteers to be the Caliph's next bride so that she can kill him, when an opportunity fails to present itself Sharzhad tells him half a story, hoping he'll keep her alive another day to hear the end of the story. While in the Caliph's Palace, Sharzhad learns that there is more to why the Caliph's brides are to be killed and learns that he may not be the monsters she's been led to believe he is. You can see my full review on goodreads.
Magisterium: The Iron Trial (Cassandra Clare & Holly Black)
"As he bent closer, he realized they were words — words his wife had carved into the cave ice with the last of her dying strength. As he read them, he felt them like three hard blows in the stomach.
KILL THE CHILD"
Written by Holly Black (Curse Workers) and Cassandra Clare (the Mortal Instruments), the Magisterium is a series that takes common tropes, like those seen in Harry Potter and flips them on their head. When Call takes the trial to enter the Magisterium, the magic school, unlike everyone else Call tries to fail. He knows magic is dangerous, that's what his father taught him, and he wants no part in this scary magic school. But Call turns out to be very bad at failing and when he goes to the magic all his father taught him gets brought into question. Full review on goodreads.
Simon vs. the Homosapiens Agenda (Becky Albertalli)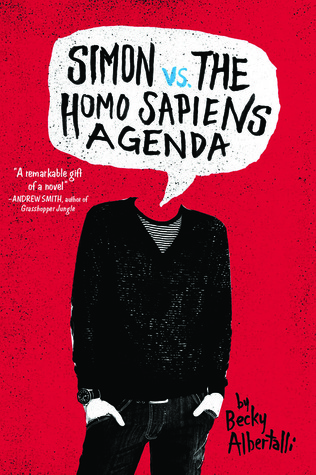 "The way I feel about him is like a heartbeat—soft and persistent, underlying everything."
I don't make a habit of reading contemporaries. So when I love one you can be guaranteed there's a good reason for it. Simon is gay and not open about it, he has a secret romance with someone else at the same school, 'Blue'. The only thing is, Simon doesn't know who Blue is, and Blue prefers his privacy. When class clown Martin gets a hold of one of Simon and Blue's secret emails and uses this to blackmail him, Simon risks his sexual identity and his relationship with Blue being compromised. At the heart of it, there's the romance between Simon and Blue that is completely adorable and the struggle with coming out about his sexual identity. It's written from Simon's perspective with some of the most accurate portrayal of a teenagers thoughts than most other YA novels. Full review on goodreads.
The Death House (Sarah Pinborough)
"No one ever leaves the house, and no one ever comes back from the sanatorium."
Dystopia and post-apocalyptic novels have been popular of late, but the Death House is a completely different take. Teenagers are tested for a 'defective' gene, this defect was the cause of the unspecified epidemic. The lack of specification actually further distances it, making this defect seem surreal but a real threat at the same time. Toby is found to be defective and taken to the 'Death House'. Literally a secluded house on an island off the shore of England where these kids go until they get sick and 'vanish' taken to the Sanatorium. Toby's found himself a pattern, he skips the sleeping pills at night and takes the night for himself but when a new group of teenagers arrive, he's no longer the only one wandering the halls at night. Clara's presence changes everything, including the way that Toby looks at what is left of his short life.
A Darker Shade of Magic (V. E. Schwab)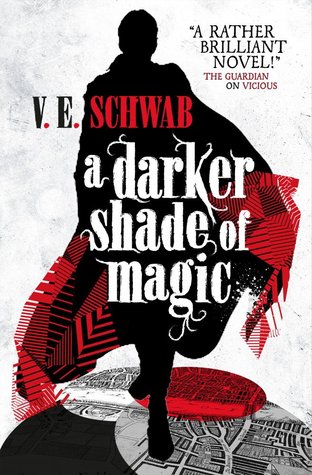 "Bad magic, Kell had called it.
No, thought Lila now. Clever magic.
And clever was more dangerous than bad any day of the week."
I'm biased. I love V.E. Schwab. So when she pitched her latest novel as 'pirates, thieves and sadistic kings' naturally she had my heart. Also I'm cheating a bit, this is one of her adult books not YA. A Darker Shade of Magic is the tale of four worlds, four Londons. There's Grey London, Victorian England, a world without magic; Red London, a world magic florishes; White London, a world starved and reaching for magic; and Black London, closed of because it was consumed by magic. When Kell, a traveller and one of the few people who can travel between these worlds stumbles across a relic from Black London, not only does it throw the future of every world into question. In his travels he meets Lila Bard, a thief from Grey London who dreams of nothing more than being a pirate. Full (incoherent from love for this book) review on goodreads.
A Court of Thorns and Roses (Sarah J. Maas)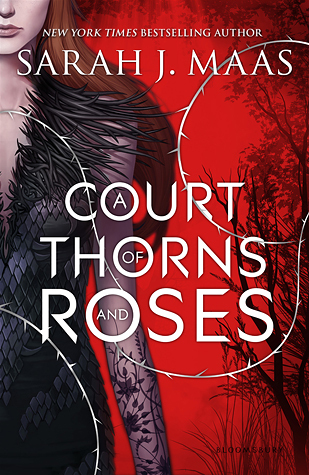 "Be glad of your human heart, Feyre. Pity those who don't feel anything at all."
Sarah J. Maas is known for her popular Throne of Glass series (which we've mentioned before) but her latest series is a Beauty and the Beast retelling. I'll be honest, it's the Disney version of Beauty and the Beast for at least the first two thirds, completely wrapped in fairy lore. Even the main character's name 'Feyre', like 'Belle', means 'beautiful'. It's the last section of the book where it stops being just a romance and reminds you that Maas is the writer, Feyre is another kickarse heroine and while she might not necessarily her own against Celaena in a fight, it's her human heart that shines out amongst all, because Feyre is not afraid of love and when she falls, she falls deeply. This is a step up from YA, neatly slotting into the NA genre (featuring more mature content), it's the moment when a brief spark between to interests becomes a roaring fire instead. Full review on goodreads.
Carry On (Rainbow Rowell)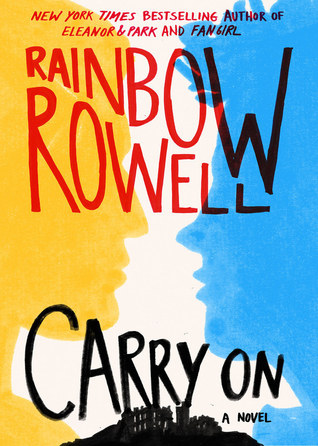 "Just when you think you're having a scene without Simon, he drops in to remind you that everyone else is a supporting character in his catastrophe."
I'm going to die with this ship, and it's all Cath's fault. Earlier this year I read Fangirl and fell irrevocably in love, never has a book hit so close to home for me because I am a writer and I am a fangirl. In the book there is a fictional book series called Simon Snow, and while clearly based off Harry Potter in terms of popularity it isn't the same thing (as both books exist in the world of Fangirl) and the main character Cath writes a Simon Snow fanfiction of Simon and his villainous roommate Baz, called Carry On, Simon. The beauty of Fangirl is that you saw the snippets of the magical world dotted through her life, the beauty of Carry On is you see snippets real life dotted through a magical world.
Carry On is the last book in a series that never happened, the end of Simon Snow's story, where he fights off the bad guy and plays through his final year of school. It's a ghost story, a magic story, but it's not really. It's a love story between Simon and Baz and it's beautiful. It's like reading a fanfiction of characters you already know and love (through Fangirl) but while it isn't canon in the Fangirl universe, their relationship in our world, thanks to the wonderful Rainbow Rowell is real. And because it's like reading a fanfiction, there's no subliminal hints to pick up on, it's clearly stated love. If you've ever read fanfiction and 'gushed' over your favourite ship (canon or not) that's exactly what this book is. This book is made of that warm gushy feeling that defines what it means to be a fangirl. Full review on goodreads.
With 2015 being such a good year for YA books, it was hard to narrow it down to those on this list. What are you favourite books that came out in 2015?
– Nadia