With the start of a new year, that can only mean one thing. More books. 2015 released some of my favourite books but 2016 looks to have some of the most interesting new releases in YA. So without further ado I'd like to introduce you to some of the books I am most excited for this year.
For the main list I've put forward one rule: no sequels. This is so I can talk about books all YA fans can be excited about.
This Savage Song (Victoria Schwab)
Victoria Schwab is without a doubt my favourite writer and I will not stop singing praises about her novel Vicious (written under the name V. E. Schwab), it was a line from Vicious that actually inspired her newest series, 'plenty of humans were monstrous and plenty of monsters knew how to play at being human'. This Savage Song is the first novel in the Monsters of Verity series, and tells the story of Kate Harker the daughter of a crime boss and August Flynn whose father is trying to hold the city together. Kate is a human who wants to be a monster, and August a monster who wishes he were human. Schwab has described the novel as "Sin City + Romeo and Juliet – romance + monsters". Her novels have rarely placed an emphasis on romance even in instances where the undertones were there. She writes with a flair few other writers can manage and it's her distinctive voice and solid characterisation that make her novels stand out.
Tell the Wind and Fire (Sarah Rees Brennan)
Tell the Wind and Fire tells the story of a girl called Lucie in a city torn between two types of magic. However it's her relationship with her boyfriend Ethan, that draws intrigue. She learns that her boyfriend has an evil doppelganger who introduces himself to both of them. I'm predicting a story where Lucie is romantically torn between her boyfriend Ethan and his evil doppelganger and I really want to see how that plays out. Evil characters are usually more 'swoonworthy' (especially in YA) and I can only be suspicious of the doppelganger's motives.
The Crown's Game (Evelyn Skye)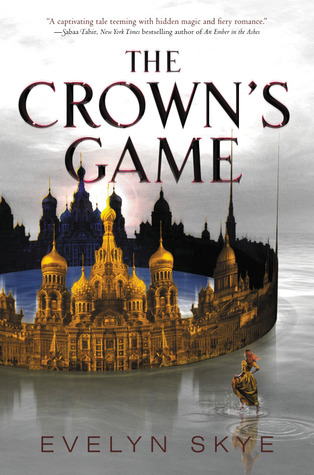 In a fictional version of Russia, the Tsar needs a powerful enchanter by his side. Two enchanters, VIka and Nikolai, have been uncovered but in order to decide who will be his Imperial Enchanter the Tsar enlists the Crown's Game. The winner will become his most trusted advisor, the loser is sentenced to death. Both competitors have enough reason to win even without the knowledge that their life is on the line, but the magicians also find themselves drawn to each other. The romance aspect is intriguing with them being in a 'kill or be killed' situation, and though it's now been revealed there will be a love triangle (with Vika being sought after by both Nikolai and the heir to the throne, Pasha) it seems like the story might focus on Nikolai – at least from the synopsis. If that is the case then it would be really interesting to see a love triangle approached from a different angle. I'm also very excited for the setting, I haven't seen many novels set in a version of the Russian Empire, especially YA, and can't wait to read this.
Timekeeper (Tara Sim)
No cover yet.
There's a clock tower in every city of the world and if it breaks; time stops. Danny's father has been trapped in a clock tower for years, and even though he's a skilled clock mechanic he's been unable to free him. But when he is sent to fix a damaged clock tower, Danny doesn't expect to fall in love with the clock spirit controlling the tower. It's an intriguing concept, that plays on the idea of stopping time, but what's more interesting to me, is a story featuring a non-heterosexual romance set in a fantasy world.
The Girl From Everywhere (Heidi Hellig)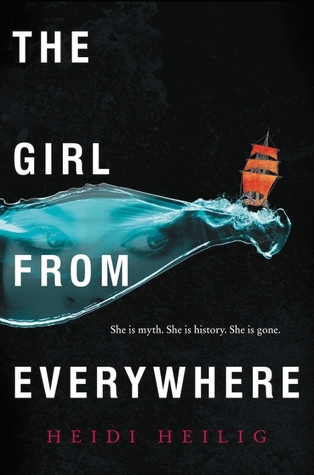 This is the story of a girl, Nix, who not only sails across the seas but she sails through time on her father's ship. To travel through time her father needs a map and now he's found one to the place he's been searching: To the time before Nix's mother died from childbirth. If her father changes the past his actions could erase Nix's future. Set across varying lands and times it will be interesting to see them all through the eyes of the same protagonist, especially one fighting with the dilemma that saving her mother could potentially erase her own existence.
Scarlett Epstein Hates it Here (Anna Breslaw)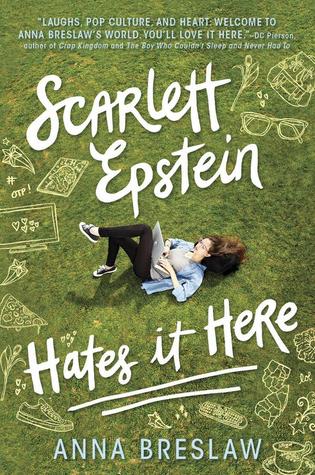 Scarlett Epstein is part of a community of fanfiction writers, but when her favourite TV show is cancelled and her crush falls in with the Populars, Scarlett starts writing fanfiction about the people inside her school. But now she's writing about real people, what will happen if any of them uncover her writings and find out what she really thinks of them? I love stories focusing on people like me, so involved in their own fandom – like in Fangirl. Contemporaries need a touch of fantasy to make me interested,  and I love the idea of Scarlett writing fanfiction about real people in her life and the consequences.
The Love that Split the World (Emily Henry)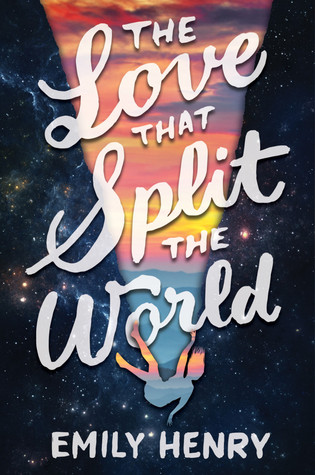 I'm not sure how to explain this one and I think that's part of why I'm excited for it. I like my romances with a bit of something else. Natalie keeps seeing 'glimpses' of things that aren't quite right, her door isn't the correct colour, buildings in the wrong places. And these changes keep getting bigger. She learns from an apparition that she has 'three months to save him' and the next night she meets Beau. I like that the synopsis leaves just as many mysteries. What's affecting Natalie's world and making it change? Who does she have to save Beau from? And who is the mysterious apparition? I'm intrigued by the things I don't know and can't wait to read the answers in Emily Henry's debut novel.
2016 looks like it will be another amazing year for YA. These are just a few of the books that I'm excited for this year, what are some of your most anticipated releases?
– Nadia