Nothing gets you into the Christmas spirit like watching a marathon of you're most beloved Christmas films. There's always one on in the background while cooking Christmas dinner or unwrapping your presents in the morning, so we've decided to share our favourite Christmas films.
Eloise at Christmastime
Made in 2003, this television movie has been around for a while and has warmed many hearts. Eloise, the bright and witty 6 six year old girl is staying in the New York Plaza Hotel at Christmastime. Along with her big personality, comes big plans when she tries to help her friend marry his true love. Completely adorable and full of holiday spirit, this is a great film to watch with the family.
How the Grinch Stole Christmas
It's a familiar saying, when someone is trying to ruin Christmas, if you're not calling them 'Scrooge' then you're calling them a 'Grinch'. This is the story of Whoville, a town that celebrates Christmas to the extreme, it's all about who has the most Christmas decorations and brightest lights. But the Grinch hates Christmas and this film tells the story about how a young girl, Cindy Lou, tries to change his mind.
Home Alone
Christmas is a time for family, so accidentally leaving your child behind when you go on holiday for Christmas seems like quite an absurd concept. None the less it's created a Christmas classic. Left home alone for Christmas, Kevin McCallister has to contend with two burglars who try to rob his house over Christmas. Cue a lot of crazy traps around the house and memorable moments as the young boy teaches the burglars a few lessons.
Anastacia
While not a Christmas film, it is a Winter classic. It's based off the story of the Princess Anastacia, the daughter of Tsar Nicholas II, who was potentially thought to have escaped the execution of her family.  Anya is a Russian orphan who knows nothing of her family, only a necklace she has telling her to go to 'Paris'. She leaves the orphanage in search of a way there and meets a con man, Dmitri, who looks like Anastacia so that he can collect the reward money from fooling the Grand Duchess. Along with Dmitri's partner, the three of them travel to Paris, none of them knowing that she is the real Anastacia. It's a beautiful story about a lost woman searching for her family, filled with beautiful songs.
Mickey's Christmas Carol
Suitable for children and the family. Get ready to be flooded with nostalgia and Christmas cheer and very many sing-a-longs! This is the Disney animated version of Charles Dickens' A Christmas Carol but with your favourite iconic disney characters playing the lead, featuring Scrooge McDuck as Scrooge and Mickey Mouse as Bob Cratchit; complete with an appearance from other Disney characters throughout the film.
About A Boy
This comedy-drama film is about the development of how an adult learns to care for someone other than himself. No more 'island-living'. Taught by a young boy. Starring Hugh Grant and Nicholas Hoult, this heart-warming story deals with a complicated and rewarding relationship between the two main characters. Rated PG-13.
Frozen
Breaking stereotypes and cliches, this film doesn't focus on finding prince charming. It is a film about the strength of sisterly love. Christmas brings the family together, and this film with its snowy backdrop is perfect to remind us of the importance of family. Watch it to meet the cheerful and optimistic singing snowman Olaf, and the magical singing Trolls, filled to the brim with fantastic tunes and music, this will get the whole family singing along. Hot chocolate recommended.
Gremlins
For fans of black comedy, then the first Christmas film you should think of is Gremlins. Don't put it near light, don't get it wet, and no matter how much it begs, don't feed it after midnight. Three very simple rules to follow if you don't want your adorable mogwai to turn into a crazy gremlin, but unfortunately things don't go to plan for Billy when his friend accidentally spills some water onto his mogwai, Gizmo which causes him to spawn five new mogwai, which after being fed after midnight turn into gremlins. There will be puppet gremlins, cute mogwai and Christmas carols.
The Nightmare Before Christmas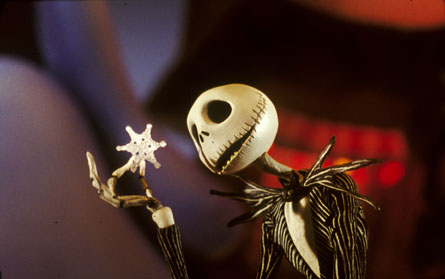 Is this a Halloween film or a Christmas film? It's a bit of both really. The film starts after Halloween has passed and feature Jack, the Pumpkin King (King of Halloween) starting to doubt himself and who he is when he finds a door in the woods that takes him to 'Christmastown'. From there he decides he wants to have a try at being Father Christmas and bringing joy instead of fear, unfortunately the real Santa Claus (or 'Sandy Claws) doesn't want to take a vacation so he gets some creepy kids to kidnap him, what could go wrong? Oh, and it's a musical.
Rise of the Guardians
While not technically a Christmas film (being set at Easter time), the main character Jack Frost has ice based powers and it also features Santa Claus. This is the story of the Guardians (Father Christmas, the Sandman, the Tooth Fairy and the Easter Bunny) all facing off against Pitch Black to protect the dreams of children everywhere. Although, really it's the story of Jack Frost and his efforts to have someone believe in him.
What films do you watch to get yourself in the Christmas spirit? Is there a film that you have to watch before it's officially 'Christmas' in your mind?
– Elizabeth & Nadia